Michele Pane

The project
The site was created with the aim of integrating the content of the biography of Michele Pane with insights, movies and reviews on all aspects of the life and work of the poet.
In order to follow the content is therefore need, In addition to the biography, the texts of the main works of Michele Pane. Currently the only available collections are those of Falcone and Piromalli published by Rubbettino (Michele Pane, The Poems, edited by G. FALCONE – A. PIROMALLI , Soveria Mannelli, Rubbettino, 1987) and Decollatura e Motta s.. Lucia. Two community of Reventino, Decollatura, Grafica Reventino, 1980.
With these two starting points you will be able to navigate through the pages of the site fully understanding what we speak, also because you plan to publish in-depth articles on the poet's life, on its living environment in Calabria and in America, on his friends and, in particular, on his works illustrating the contents in detail.
The blog offers visitors the opportunity to comment on articles and then provides the opportunity to discuss issues concerning the life of Michele Pane, dialect poetry, events that have influenced the life and works of the poet.
Giuseppe Musolino
READ THE ARTICLE AGAIN' RECENT:
Next
26 August at 17:30
in the seat of
Literary Michele Pane Park Viale Don Luigi Costanzo – Adami
I will keep a conversation about
«Tora»
, the mythical character of the poem by Michele Pane.
With me there will Lucia Bonacci, President of the Literary Park Carmine De Fazio, Vice president, with whom dialogherò on one of the most beautiful female figures of the poetic world of Pane.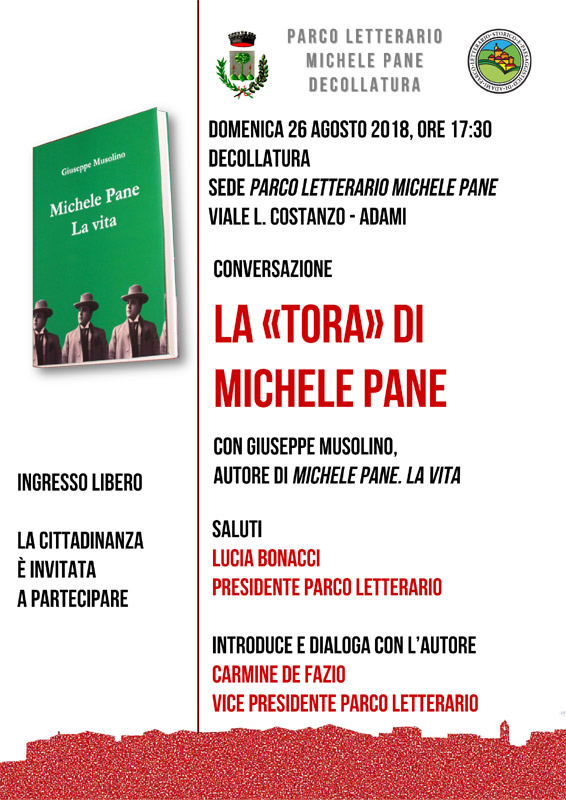 The conversation will focus on the character Tora starting from the verses that have made immortal but also taking care of his real identity as I got to expose in a recent article in the journal "Storicittà». The conversation will start by listening to Michele lines of the poem recited by Domenico Adamo, member of the Literary Park, and, knowing that I'll be guest, I decided that as a tribute to the Literary Park show documents, exceptional and unusual, which so far I had not published, even in my book "Michele Pane. The Life».
Who wants to know that it will have no choice but to come to Literary Park Sunday 26 August 2018, hours 17:30.
Giuseppe Musolino